MetroIBR Announces $108M USCIS ESIS Single Award Win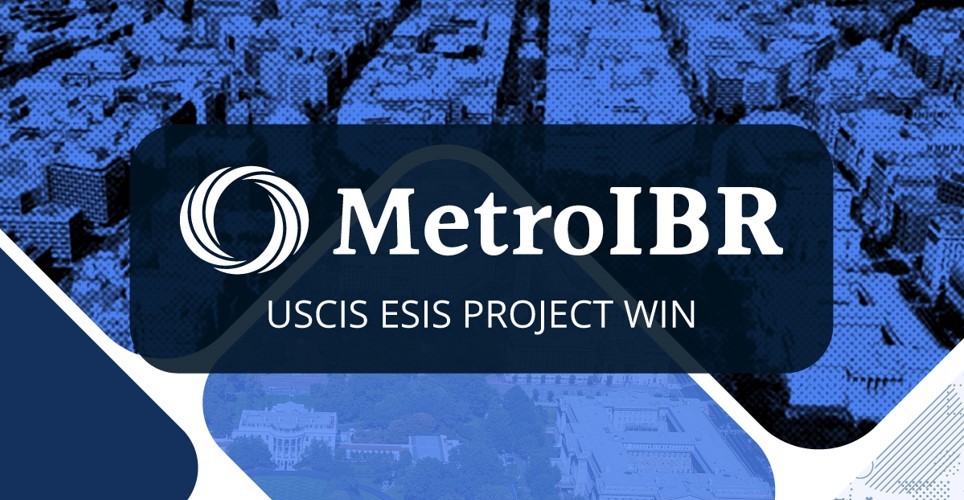 Released in partnership between Imagine Believe Realize LLC (IBR) and MetroStar
Reston, VA & Rockledge, FL - Monday, Dec. 23, 2022 - MetroIBR is pleased to announce its selection as the sole awardee of the $108M five-year contract, U.S. Citizenship & Immigration Services (USCIS) Engineering Support for Identity Services (ESIS). MetroIBR is an SBA-approved mentor-protege joint venture (JV) of Imagine Believe Realize, LLC (IBR) and MetroStar.
Under this contract, MetroIBR's personnel will support USCIS IT system delivery by performing integrated data analytics, artificial intelligence and machine learning (AI/ML), and DevSecOps tasks in cloud environments and by designing data-driven web applications. This critical work modernizes complex, legacy, and large-scale, Identity Management Systems for internet-facing websites and IT systems.
The MetroIBR team has proudly supported the USCIS for over four years, and this win continues that partnership through the JV's services and its pursuit to offer cutting-edge solutions. This contract allows the team to continue to aid in advancing the Nation's lawful immigration process and upholding the technology advancements needed to honor immigration benefits.
'We believe wholeheartedly in the USCIS mission,' said Ashley Brush, MetroStar's Vice President of Federal Civilian. 'The ESIS program win allows MetroIBR to apply digital services like DevSecOps, artificial intelligence, and user-centered design to advance person-centric identity efforts and build secure technology solutions, enabling people to fairly and lawfully seek the 'American dream.''
Additionally, MetroIBR is supported by Centrifuge, LLC and Pyramid Systems. Centrifuge, an SBA 8(a) certified organization, serves the public sector by harnessing the power of data management, application development, and cloud services. Pyramid Systems provides leading edge application development and IT services to enhance Federal mission delivery from Financial Management to Identity and Homeland Security.
For inquiries about this contract win, please contact Rohan Prabhu, IBR's Vice President - Civilian (rprabhu@teamibr.com).
About IBR
IBR, a small business and MetroIBR's managing partner, was formed in 2007 to help government agencies and industry leaders modernize infrastructure, systems, and applications. Since then, IBR has delivered transformative software and systems engineering solutions across the federal sector, leveraging advanced technologies (cloud, artificial intelligence, automation, machine learning) to eliminate inefficient stovepipes, decrease costly physical footprints, and standardize best practices. Of note, IBR brings extensive contract experience supporting Federal Department of Defense and Civilian mission-critical Identity, Credential, and Access Management (ICAM) initiatives, and a successful performance track record backed by 'Exceptional' Contractor Performance Assessment Reporting System (CPARS) evaluations.
About MetroStar
MetroStar is a leading solutions and digital services provider with a rich, two-decade legacy of building the best and brightest teams. As we navigate a new era of technology, our mission is to serve and transform how people, bureaucracies, and tech enthusiasts connect in the digital age. Everything we touch begins and ends with people—civil servants, service members, farmers, and immigrants (to name a few)—and our tools empower faster solutions worldwide, supporting dozens of federal agencies, hundreds of thousands of users, and millions of Americans. Learn more about how MetroStar is developing the next generation of solutions.